Timing systems for

High density tests for presence of chips on antennas
what makes our anti-collision and discrimination system necessary
of all the chips present.
UHF systems are ideal for competitions in:
Marathon, Trails, March, Cross Country, Orientation ...

.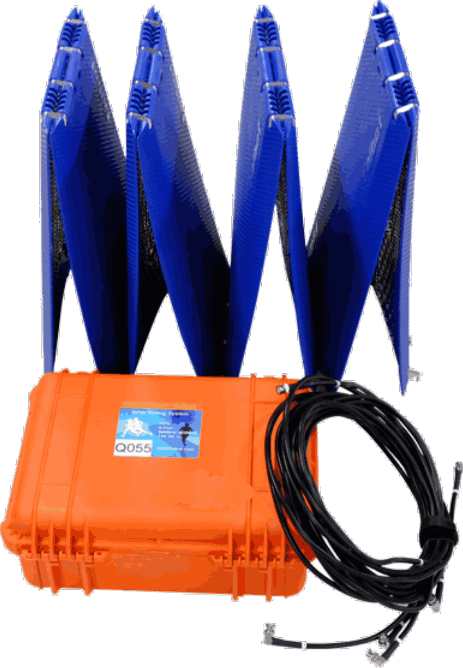 The timing of the walking race represents the highest level of difficulty faced in the timing world, due to the density of participants present at the start pending the Judge's orders, where more than 200 participants can crowd over the starting line at the same time and waiting for thousands of participants to pass over the antennas.
With our passive chip systems with the anti-collision system, this is not a problem, since with their anti-collision logarithms they are able to detect more than 1000 chips at the same time, guaranteeing thousands of records in a few minutes in the correct sequence.
Cronomach with its filtering system perfectly distinguishes the chips programmed for the corresponding competition, discarding other chips from past competitions.
Cronomach with its passive equipment is the most suitable solution for large sporting events and for the most modest organizations.

EQUIPOS RECOMENDADOS
| | | | | |
| --- | --- | --- | --- | --- |
| MODELO | BLUE I | ATL98 | SI91-4 | SI91-8 |
| Nº Antenas | 1 | 4 | 4 | 8 |
| Chip | Chip Foam // Chip Reutilizable | Chip Foam // Chip Reutilizable | Chip Foam // Chip Reutilizable | Chip Foam // Chip Reutilizable |
| Comunicación | Bluetooth | RJ45/Wifi | RJ45/Wifi | RJ45/Wifi |
| Ancho Detección | 2m | 4m | 5m | 8m |
| Antenas | Integrada | 2 Laterales/2 Suelo | 2 Laterales/2 Suelo | 2 Laterales/6 Suelo |
| Numero Participantes | Bajo 200 | Medio 500 | Medio/Alto1500 | Alto +1500 |
| Punto Cronometraje | Meta/ Check Point/ Intermedio | Meta/Intermedio | Media/Intermedio | Salida/Intermedio/Meta |
| Software | Clas// Clas16//Mspots | | | |