Timing systems for
MOTOR COMPETITIONS
From Karting to Motorcycling Cronomach has the solution
The ACTIVE system is ideal for these tests since it is guaranteed
reading at a speed of 200KM / h and without obstacles in the
Finish line
.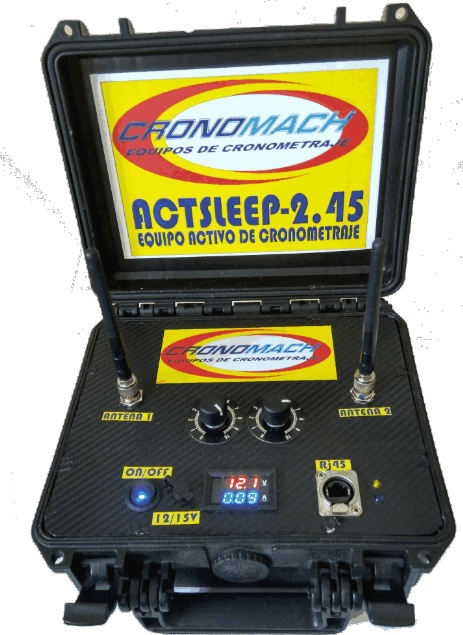 The timing of Motor competitions (Motorcycling, Karting, Motocross, Enduro ...) have no difficulty for our active chip system Actsleep2.45, which is simply passing a cable through the finish line (up to 12m and that can be embed in the asphalt or bury), any CRONOMACH transponder that passes over the finish line will be activated and will send the exclusive pilot code. The Cronomach transponder remains "Asleep" until it detects that it passes over the finish line, which is when it is "Activated" and begins to emit the Code, this code is read by the Decoder that sends the information to the computer where it is working the ranking software.
The CRONOMACH Transponder is considerably cheaper than our competitor's transponders.
The Transponder is powered by a CR2032 battery which are very easy to replace.
The timing and classifications software will give us all the information we need, from a qualifying round with the fastest lap as a reference, such as the competition with the highest number of laps in a given time.
The software gives us the possibility of external display and OnLine time tracking, as well as control of electronic start and end of race flags.
EQUIPOS RECOMENDADOS
| | | | | |
| --- | --- | --- | --- | --- |
| MODELO | ACTSLEEP2.45 | ATL98 | SI91-4 | SI91-8 |
| Nº Antenas | 2 Loop | NO | | |
| Chip | Chip Activo | | | |
| Comunicación | | RJ45/Wifi | RJ45/Wifi | RJ45/Wifi |
| Ancho Detección | 12m + 12m | 5m | 6m | 10m |
| Antenas | Cable | 4 Aéreas | 2 Aéreas | 2 Aéreas |
| Numero Participantes | + 300 | | | |
| Punto Cronometraje | Meta/ Salida/ Intermedio | | | |
| Software | Clas16// Mspots// PcLapCounter | | | |